Dr. Edward (Ellie) Bennett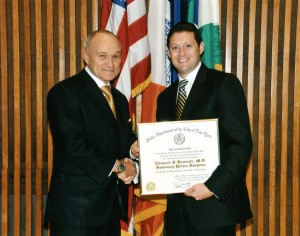 Dr. Bennett is a life-long resident of Queens. He graduated with honors, Cum Laude, with a Bachelor of Arts in Sociology from Queens College in 1998. He earned his MD at New York Medical College in Valhalla, Westchester in 2002. Dr. Bennett is double Board-Certified having completed residencies at New York Hospital Queens (NYHQ) in both Internal Medicine (2005) and Emergency Medicine (2009). In addition, he was appointed an Instructor of Emergency Medicine in Clinical Medicine at Weill Cornell Medical College in July 2011.
Dr. Bennett has been an active member of Hatzalah Volunteer Ambulance Service, serving as a volunteer Paramedic since 1999 and was a first-responder on 9/11 in New York City. For his commitment to the New York City Police Department, Dr. Bennett was appointed an Honorary NYPD Police Surgeon by former Commissioner Ray Kelly in 2013.
He currently serves as Medical Director of Emergency Medical Services at JFK Airport through the Port Authority of NY/NJ, and since 2010 has been the Director of the Emergency Medicine Training Center at NYHQ. He is also an On-Line Medical Control Physician for New York City as well as Hudson Valley.
Dr. Bennett divides his time working as a full-time Attending Physician in the Emergency Room at NYHQ and tending to the Internal Medicine practice he shares with his father Dr. Leslie Bennett. His patients range in age from 1 day to 120 years old.
Dr. Leslie Bennett

Dr. Leslie Bennett received his Bachelor of Arts from Yeshiva University in 1969 and graduated from New York Medical College in 1973. Dr. Bennett's internship in Internal Medicine at Long Island Jewish Medical Center was completed in 1974 and he spent the next two years at Maimonides Medical Center finishing his residency.
In 1978, Dr. Bennett completed a Fellowship in Hematology /Oncology at Long Island Jewish. In 1996 he was certified in Nutrition Support and successfully incorporated nutrition and weight management to his medical practice. From 1990-2008 he was Chairman of the Nutrition Committee at the The Parkway Hospital in Forest Hills, as well as Chairman of the Transfusion Committee from 1986-2008.
He was an Associate Professor of Medicine at Touro College from 1977-1980, as well as a Clinical Preceptor, Division of Medical Student Education at Albert Einstein College of Medicine from 2000-2007.
Dr. Bennett is currently an Attending Physician in the Department of Medicine at Long Island Jewish Medical Center as well as New York Hospital of Queens and Flushing Hospital Medical Center. In addition, he is a consultant in Hematology/Oncology and Nutrition Support at New York Hospital Queens.
Dr. Bennett divides his time between his private medical practices in Queens and Brooklyn and his hospital consultation services.
Dr. Bennett's wife, Deborah Bennett received a Bachelor's degree in 1975 from Stern College for Women followed by graduate work at The Ferkauf Graduate Center of Yeshiva University. Together they have successfully run Doctors Diet Medical Center, a medically supervised weight loss program in Queens and Brooklyn, for more than 30 years.