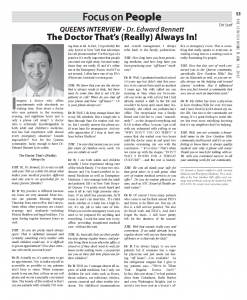 Imagine a doctor who offers appointments with absolutely no waiting time. How about a doctor who sees patients in the morning, evening, and nighttime hours and is only a phone call away? A doctor who is extremely knowledgeable in both adult and children's medicine, and has had experience with almost every emergency situation? Sounds impossible?! Not for the Queens community, lucky enough to have Dr. Edward Bennett in its midst.
The Doctor That's (Really)
Always In
TJH: Hi, Dr. Bennett, it's so nice to talk with you! Tell us a little bit about what makes your medical practice different and why you're on speed-dial for so many Queens' families?
Dr B: My practice is different because my hours are very unusual. Most doctors see patients Monday through Thursday from nine to five, but I see patients when other practices are closed: evenings and weekends—including Motzei Shabbos and legal holidays. I'm open during regular business hours as well.
TJH: So you are pretty much always open! That is definitely unusual and certainly something every mother with small children could use. Is it difficult to get an appointment? How does someone who needs you reach you?
Dr B: Actually no, it's quite easy to get an appointment. I try to make myself as accessible as possible so my patients don't have to stress. When someone needs to see me, they call me on my cell phone and we set a mutually convenient time. The beauty of this method is that I can see patients with virtually NO waiting time at all. In fact, I'm probably the only doctor in New York that advertises his cell phone number! For this type of a practice it's really important that people can reach me right away, because many times they are really ill and it's either me or the Emergency Room. And if I'm not around, I often have one of my PA's (Physician Assistant) covering me.
TJH: We know that you are the doctor that is always ready to help, but there must be some time that is not OK for patients to call! When do you shut off your phone and have "off hours?" Or is your phone always on?
Dr B: Well, I do keep strange hours due to my ER schedule. But a rough rule is 8am through 9pm for routine sick visits, but I usually answer the phone until even later for emergencies. And my wife appreciates if I stop at least one hour before Shabbos!
TJH: I'm sure that means you see your fair share of children every week. Do you see adults as well?
Dr B: I see both adults and children actually. I have experience taking care of the whole family. I've done two residencies and I'm board-certified in Internal Medicine as well as Emergency Medicine. I also manage both the adult and pediatric ER's at New York Hospital Queens. I've pretty much heard and seen it all in very high pressure situations. If an adult has pneumonia, he'll come in and I can treat him. If a child needs stitches or a baby has a high fever, it's my job to take care of him. When you run the emergency room you need to be prepared for anything and everything. I work the same way in my office, providing exceptional medical care –without the wait.
TJH: So, basically kids see their pediatricians during regular hours, and parents bring them to you when the office is closed or if they don't want to wait for hours in the waiting room…can parents use you as their full time physician for their children?
Dr B: Well, no. I manage almost all aspects of adult medicine, but I only see children for sick visits such as fevers, throat cultures, ear infections, stitches, earwax removal and other similar situations. For childhood immunizations and overall management, I always refer back to the family pediatrician.
TJH: How long have you been practicing medicine, and how long have you been practicing your "off hours" medicine?
Dr B: Well, I graduated medical school 10 years ago but didn't start this practice in its current form until an incident 3 years ago. My wife called me one morning at 9am when my two-year-old son woke up with a fever but I had already started a shift in the ER and wouldn't be home until much later. Reluctantly, she called our pediatrician's office. The receptionist was a family friend and told her to come "immediately!"…so she dropped everything and RAN to their office. At noon, I get a call with my exhausted wife yelling at me "WHY DON'T YOU DO THIS?!" It seems that she waited over two hours until the doctor came in and spent two minutes examining my son with the conclusion – " it's a virus." That's when we came up with the slogan, "DON'T WAIT 2 HOURS FOR A THROAT CULTURE"….and the rest is history.
TJH: We can all thank your wife for that great idea! As a side point, what sort of routine medical services to you offer? Do you do routine physical exams, such as NYC Board of Health annual exams?
Dr B: Of course! I have many patients who come to me for their annual PPD's and forms to be filled out. But my office is a full service practice. We also do blood work and EKG's. And don't forget fl u shots…I still have plenty left for the duration of fl u season!
TJH: Well that sounds really easy and convenient. If an adult already has a regular doctor will you see them during off hours or is that only for kids?
Dr B: I'm always happy to see new patients but if someone has a regular physician and just needs me during "off hours"—I'm available! As the refrigerator magnet that I give to my patients says…"We're In When Your Regular Doctor Isn't!!" In fact, this year alone, I've had patients drive from Cedarhurst, Belle Harbor and even Washington Heights, just to avoid a two hour wait in a doctor's office or emergency room. This is something that really speaks to everyone, as waiting a long time in a waiting room is really frustrating for people.
TJH: How has this sort of work connected you to the Queens community, specifically Kew Gardens Hills? You are on Hatzolah as well, so you are really always on the helping end toward Queens' residents. Has it influenced how you feel toward a community that sees you as such an important asset?
Dr B: My father has been a physician in Kew Gardens Hills for over 30 years and I have lived in KGH almost my entire life. Our ties to the community are strong. It's a great feeling to assist others but even more satisfying knowing that it's my neighbors that I'm helping.
TJH: Well, you are certainly a household name in the Kew Gardens Hills community and beyond, and it's so comforting to know there is always quality medical care only a phone call away! Thank you so much for talking with us. We wish you continued success in all your amazing work for our community.
———
Dr. Bennett is board certified in both Internal Medicine and Emergency Medicine. He is available in his Kew Gardens Hills office most evenings and weekends and can be reached at 646-623-3350. He accepts most insurance plans.
Social Share